Senator Benigno S. Aquino III
Senate Office:
Rm. 526 5th Flr., GSIS Bldg., Financial Center, Roxas Blvd., Pasay City
Trunk Lines: (632) 552-6601 to 70 loc. 5541
Direct Lines: (632) 833-6383
Telefax No.: (632) 552-6601 loc. 5540
Email:

[email protected]


Website: www.noynoy.ph
---
Biography | Resume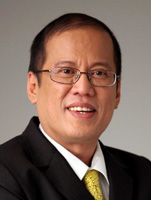 Benigno Simeon "Noynoy" C. Aquino III has always viewed politics as a necessary vehicle for change, a perspective he formed early in life through the examples set by both of his parents.
In 1998, he ran for a seat in the House of Representatives and won. He would serve as Congressman of the 2nd District of Tarlac until 2007.
In his nine years at the Lower House, Noynoy focused on the fiscalizing role of a legislator. He felt that there were already too many laws, and good ones at that, but they seemingly lacked proper implementation. He concentrated on crafting laws that would help create opportunity rather than impose additional burdens to those who are already disadvantaged. He actively took part in budget deliberations to ensure that government initiatives do address the plight of the people who need help the most.
His commitment to continue the legacy of his parents was evident in his performance. In November 2004, he became Deputy House Speaker of Luzon, but he relinquished the post when he joined leaders of the Liberal Party (LP) in calling for the resignation of President Gloria Macapagal-Arroyo at the height of the "Hello Garci" scandal. To him, it was easier to give up the position than abandon his duty to hold accountable those who do wrong.
In May 2007, he ran for Senator and won, placing 6th in the national elections. He chairs the Senate Committee on Local Government, and is also the vice-chairperson of the Committee on Justice and Human Rights. He had been determined to ensure that his key legislative initiatives would bear fruit and to see them through until the end of his term.
However, fate had other plans for him. The passing of his mother, former President Cory Aquino, stirred a long-dormant yearning for good leadership. Filipinos from all walks of life, here and abroad, began to look at Noynoy as the new hope for a better Philippines. The groundswell calling for him to run for President became too loud to ignore, and eventually overcame his reluctance.
In his letter from prison many years ago, Ninoy said to Noynoy, "Son, the ball is now in your hands."
Today, the people want the future back into their own hands and Noynoy will not let them down.
His critics say he merely trades on his good name and skeptics consider him a lightweight. Rivals accuse him of wrongdoing despite a clearly unblemished record. Noynoy's detractors have been busy trying to bring him down, but their efforts have only allowed him to improve his popularity.
Noynoy is an economist by education, a lawmaker by vocation. He is an audiophile, history buff, marksman and self-taught billiards sharpie. He is a loving brother and uncle, and a steadfast friend. He is also destined to be the one to finally lead our country towards a brighter future.
"There is no greater nation than our Motherland. No greater people than our own. Serve them with all your heart, with all your might and with all your strength." – Ninoy Aquino in a letter to his only son Noynoy.

back to top