Senator Ronald "Bato" Dela Rosa
---
Biography | Resume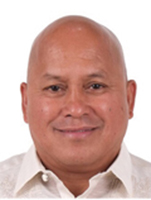 A public servant with more than three decades of experience in the Executive Branch of government prior to joining the Legislative Branch in 2019 as a Senator of the Republic of the Philippines.
He completed his Master's Degree in Public Administration and Doctorate Degree in Development Administration from the University of Southeastern Philippines, Davao City in 1998 and 2006, respectively. He is also a member of the illustrious Philippine Military Academy's Sinagtala Class of 1986.
The fight against the proliferation of illegal drugs has long become a mission in his life that did not waver when he joined the Legislative Branch. Among his priority legislation are the revival and imposition of death penalty for those who will import, manufacture and cultivate illegal drugs (Senate Bill No. 226); inclusion of substance abuse prevention education for grade school students (Senate Bill No. 228); and, strengthening the public health approach in the drug abuse prevention (Senate Bill No. 513).
His legislative accomplishments in his first two years in the Senate include spearheading the passage of Republic Act 11589 (BFP Modernization Act) and Republic Act 11549 (PNP, BFP, BJMP and BuCor Height Equality Act). He also actively participated to ensure the enactment of Republic Act No. 11479 (Anti-Terrorism Act of 2020).
During his police service, he received the Presidential Anti-Organized Crime Task Force (PAOCTF) Satellite Office of the Year Award conferred by then President Joseph Estrada. In 2012 and 2013, he received the Senior Police Commissioned Officer (PCO) of the Year for Operations Award and Achievement Award in the Field of Police Operations, respectively, conferred by the late President Benigno Aquino III.
He was awarded the Medalya ng Pambihirang Paglilingkod for his invaluable service in the field of Anti-Terrorism. It was presented by late President Aquino and then Interior and Local Government Secretary Manuel A. Roxas II during the PNP's Araw ng Parangal sa Kapulisan in 2014. He is also a recipient of the Cavalier Award in 2015, the highest distinction given to a PMA alumnus, for his several recognitions in the field of Police Operations.
He served as the first Chief of the Philippine National Police under the Duterte Administration and the 21st chief of the agency, a position he held for 21 months, from July 2016 to April 2018. After his mandatory retirement from the police service, he was appointed as the Director General of the Bureau of Corrections, before joining the senatorial race in the 2019 national elections. He won and placed 5th in the polls, garnering more than 19 million votes. .

back to top