Press Release
January 18, 2023

OPENING REMARKS DURING COMMITTEE HEARING ON BILLS AND RESOLUTION ON SALT INDUSTRY DEVELOPMENT
Committee on Agriculture and Food
Senator Recto Room and via Cisco Webex
18 January 2023, Wednesday 10:00 A.M.

May I first read the background of the ASIN Law.

The Commonwealth Act No.141 Public Land Act of 1936, that was enacted at the time of the administration of Pres. Manuel Roxas, formalized the leasing out of public lands and foreshore areas into fishponds and salt farms. Several fishpond lease agreements were issued by the Department of Agriculture and Natural Resources, and the salt industry boomed as new fishponds and salt farms were constructed in Pangasinan, Bulacan, Mindoro Occidental, Cavite, Paranaque, Negros, Cebu and other provinces from the 1950s onwards. Salt producing areas in the Philippines, reached an estimated peak of 5,000 hectares nationally, producing an estimated 240,000 metric tons annually. This boom in growth supported a growing population and the development of the salt industry in the 1960s and 1970s.

In 1995, The Act for Salt lodization Nationwide (ASIN LAW), or the Republic Act 8172, An Act Promoting Salt lodization Nationwide and for Related Purposes was approved. The law required the addition of iodine to salt intended for human and animal consumption to eliminate micronutrient malnutrition, particularly the iodine deficiency disorders, in the country. One of the most common effects of Iodine deficiency is the Goiter.

The law covered the entire salt industry, including salt producers/manufacturers, importers, traders, and distributors as well as government and non-government agencies involved in salt iodization activities. The law mandated LGUs to support the development and sustainability of the salt industry through the formulation of ordinances and information campaigns promoting the availability and use of iodized salt and the provision of budget for health and nutrition programs. To support the Salt Industry, RA 8172 created the Salt Iodization Advisory Board, composed of-National Nutrition Council DENR; Salt Manufactures, Medical practitioners but in the IRR, the National Nutrition Council created the Salt Iodization Advisory Board composed of the Departments of Agriculture; Health; Social Welfare and Development; Education; Science and Technology; Interior and Local Government; Labor and Employment; Trade and Industry; Budget and Management; the National Economic and Development Authority; its three (3) private sector representatives and a representative each from the DENR, the medical profession and the salt manufacturers, with a total of seventeen (17) members.

The Department of Environment and Natural Resources was tasked to identify areas that are suitable for use as salt farms with the purpose of protecting such areas from environmental risks to ensure sustainability of iodized salt production. Pursuant to this they created, DENR Administrative Order No. 98-67, S. 1998, Guidelines for the Identification, Declaration, and Award of Areas Suitable for Salt Production.

The ASIN Law provided for sanctions for offenders such that, any person, whether natural or judicial, who violates any of the provisions of this Act or any of the rules and regulations promulgated shall be punished by a fine of not less than One thousand pesos (P1,000.00) to not more than One hundred thousand pesos (P100, 000.00); and the revocation of its business permit and/or ban of its product from the market.

The law, instead of promoting, became a deterrent in the development of the local salt industry. It has neglected to develop new areas and invite new investors; it made all salt food grade. In 2021, it was reported that, we only produced seven (7%) percent of our salt requirements and imported ninety three (93%) or 550,000 MT.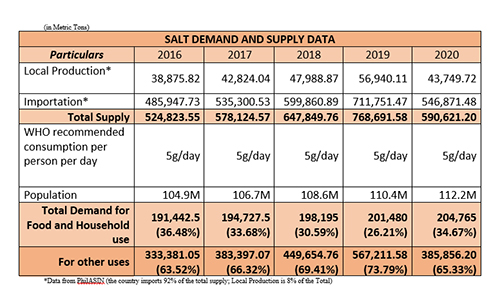 The Philippines only needs a small percentage of salt for human and animal consumption but it has other nonfood uses. There should be a balance between all these needs such as for the preservation of fish catch and as fertilizer for our coconut industry.
Salt is used for over 14,000 uses --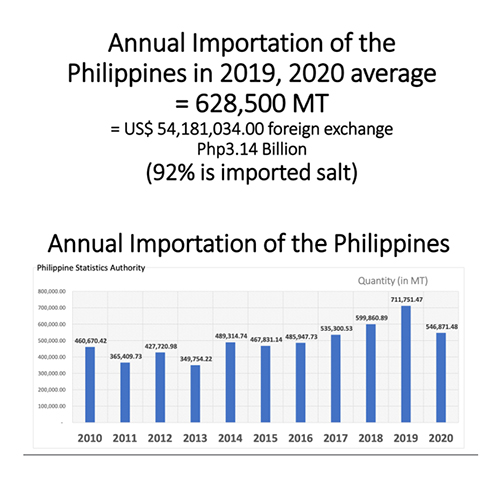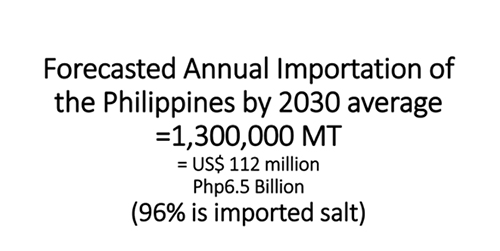 Salt is a basic commodity. Salt is a dying local industry in the Philippines. The country imports 850,000 metric tons of salt mainly from Australia and China or 93 % of our salt requirement. APSTAI or Association of Salt Producers, Traders and Allied Industries controls 95 % of the Philippine market. The Philippines produces 100,000 MT of local salt.
Philippines Imports of salt, pure sodium chloride amounting to 31.1 Million USD in 2020. The top trading partners of Philippines in 2020 are:
(1) Australia 72% (20 million US$)
(2) China 18.7% (5.41 million US$)
(3) Thailand 4.2% (1.21 million US$)
(4) New Zealand 2.39% (690 k US$)
Data shows that the Philippines only produced less than 60,000 MT of salt from 2,100 hectares occupied by Philippine salt makers.
Salt production in the country needs about 12,000 to 13,000 hectares of shoreline and the proper technology. Salt production is very economically and sustainable.
Local iodized salt sells at 411 pesos (35 kgs), iodized salt from Australia at 200 pesos (35 kgs), industrial salt at 275 pesos for 50 kgs (.50 x 35 kgs, 17.50 pesos)
Today, people are taking salt more than they should have. The Geneva-based World Health Organization (WHO) recommends that adults should only consume less than 2,000 milligrams of sodium, or 5 grams of salt per day. Salt aside from table use, is also a requirement in chemical, pharmaceutical and manufacturing industries. The country would need more salt soon because the coconut industry will require 300,000 MT to fertilize 300,000 coconut trees, at 1 kilo a year per tree. The total requirement would eventually be 850,000 tons, worth $42 million.
Let this public hearing be the chance for the Senate to listen to the justifications, concerns and recommendations of everyone invited today in relation to these issues.