Senator Sergio R. Osmeña III
Senate Office:
Rm. 527 & 3 GSIS Bldg., Financial Center, Roxas Blvd., Pasay City
Trunk Lines: (632) 552-6601 to 70 loc. 8526
Direct Line: (632) 551-9999
Telefax No.: (632) 551-9888
Email:

[email protected]

,

[email protected]


Website:




---
Biography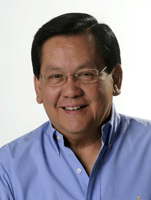 "Helping the poor escape from poverty."
Of Cebuano-Negrense-llonggo ancestry, Sen. Serge Osmeña takes pride that his family has had the honor to have contributed three generations of direct ascendants to the Philippine Senate. Both his grandfathers -- Sergio Osmeña Sr. and Esteban dela Rama -- and his father, Sergio Osmeña Jr., served as senators.
The senator was elected in 1995 and re-elected in 2001 and 2010. He currently chairs the Committee on Banks, Financial Institutions and Currencies and the Committee on Energy.
Senator Osmeña's legislative efforts have been focused on measures that would transform Philippine society into one that would be kinder and gentler to all Filipinos, especially those who have less in life. To promote inclusive economic growth and help the poor escape from poverty, more jobs must be created by the economy. To create jobs, his efforts have consistently been focused on lowering the costs of doing business in the Philippines and reducing the bureaucratic logjam.
Senator Osmeña has authored and/or sponsored numerous economic reform measures, such as the new Insurance Code, the new NEA charter, the new Rural Banks Act which allows foreign capital infusion in rural banks, the Anti-Money Laundering law, the Retail Trade Liberalization Act, Government Procurement Act, Securities Regulations Code, and the Electric Power Industry Reform Act.
Senator Osmeña has also earned the reputation of being the Senate's "fearless fiscalizer." Known to be fiercely independent, his constituents have witnessed his numerous exposes of graft and corruption, among others the P112 billion spent for imported overpriced steel bridges under the President's Bridges Program (PBP), the many behest loans granted by the Development Bank of the Philippines (DBP), underpriced SSS-Equitable Bank deal, the PNCC-Radstock scam, IMPSA-CBK, PIATCO-Frapport Terminal 3 scam, Marconi Radar and Casecnan power contracts, saving tens of billions of pesos for the Filipino people.
Sen. Serge R. Osmeña III is a farmer and businessman by training and was educated at Harvard College Georgetown University, and the University of the Philippines.

back to top