Ferdinand E. Marcos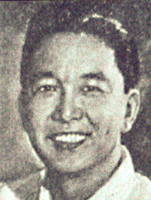 Ferdinand E. Marcos was born on September 11, 1917 in Sarrat, Ilocos Norte. His parents, Mariano Marcos and Josefa Edralin, were both teachers.From 1923 to 1929, he attended the Sarrat Central School, Shamrock Elementary School in Laoag and the Ermita Elementary School in Manila. He finished high school and liberal arts course at the University of the Philippines. While still a student, he was commissioned as third lieutenant (apprentice officer) in the Philippine Constabulary Reserve after having been an ROTC battalion commander.
In 1935, Assemblyman Julio Nalundasan, a political rival of his father, was shot dead. Suspicion for the crime fell on the Marcoses. Ferdinand Marcos who was arrested on a charge of conspiracy to murder, was tried, and found guilty in 1939. He argued his case on appeal to the Supreme Court, luckily winning an acquittal a year later.
In the summer of 1939 he received his bachelors degree, cum laude from the U.P. College of Law. He would have been a class valedictorian and magna cum laude had he not been imprisoned for the Nalundasan murder. The case prevented him from attending several weeks of classes. He reviewed for the bar examinations while in prison. He bailed himself out in order to take the examination, where he emerged topnotcher in November of the same year. He became trial lawyer in Manila.
During World War II, he served as an officer in the Armed Forces of the Philippines.
As a lawyer and a master politician, Marcos led a most a interesting and controversial political career both before and after his term as Senate President. He became Senator after he served as member of the House of Representatives for three terms, then later as Minority Floor Leader before gaining the Senate Presidency. He is one of the legislators who had established a record for having introduced a number of significant bills, many of which found their way into the Republic statute books.
He was elected President of the Philippines in 1965 and was reelected in 1969. On September 21, 1972, Marcos imposed martial law and he stayed in power until 1986, after the historic four-day " People Power " revolution at EDSA.
Marcos went on exile in Hawaii, where he died on September 28, 1989. He left behind his wife, Imelda and their three children: Maria Imelda Josefa Trinidad (Imee), Ferdinand Jr. (Bongbong), and Irene Victoria.
Thus far, he is the last Senate President to become President of the Philippines.