Senator Joseph Victor G. Ejercito
Senate Office: Rm. 511 & 2 (New Wing 5/F) GSIS Bldg., Financial Center, Diokno Blvd., Pasay City
Trunk Lines: (632) 552-6601 to 70 local nos. 8685 to 8688
Direct Lines: (632) 552-6748 / (632) 586-4882
Email: j

[email protected]


Website: www.jvejercito.com
---
Biography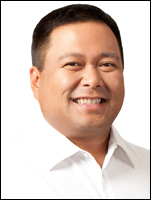 Senator Joseph Victor G. Ejercito was born on December 26, 1969 in Manila. He is the son of San Juan City Mayor Guia Gomez and former President now Manila Mayor Joseph Ejercito Estrada.
He is a proud alumnus of Xavier School where he completed his elementary and secondary education. He earned his college degree of AB Political Science at De La Salle University in 1991. Ejercito first entered the political limelight in 2001 when San Juan residents clamored him to run as mayor. He served as San Juan Mayor for three consecutive terms, from 2001 to 2010.
Under Ejercito's leadership, San Juan was distinguished for its dynamic local government reform and economic boom with an annual revenue increase of P100 million. From P300 million in 2001, San Juan's revenue increased to P1.2 billion pesos in 2010. Because of the significant growth, San Juan was converted into a highly urbanized city in June 2007.
Ejercito's accomplishments as Mayor garnered him several prestigious awards, among them the Ten Outstanding Young Men (TOYM) award for Public Service and Governance in 2007.
In 2010, Ejercito ran unopposed as Representative for the Lone District of San Juan.
In the 15th Congress, Ejercito was recognized among the 15 Most Outstanding Congressmen. He chaired the House Committee on Metro Manila Development, and became Vice Chairman of the Committees on Labor and Employment, and Local Government.
Ejercito was also distinguished as the 9th Most Prolific Lawmaker in the 15th Congress, having authored 149 House Bills and 18 House Resolutions, one of which was the Kasambahay Bill. He fought for higher state subsidy for the State Universities and Colleges and for the reformation of the Sangguniang Kabataan system.
Ejercito was elected Senator during the May 2013 national elections.
In the 16th Congress, Senator JV Ejercito is seeking to legislate landmark reforms on the local housing, economic affairs, education system, job generation and youth welfare. He has filed 117 Senate Bills and 18 Senate Resolutions. He is Chairman of the Senate Committee on Economic Affairs and the Committee on Urban Planning, Housing and Resettlement.
Senator Ejercito likes to play golf during his spare time. He is a Commissioned Reserve Officer of the Philippine Marine Corps with the rank of Major and an adopted member of the Philippine Military Academy Class '88 of Maringal.
Senator JV Ejercito is married to Ma. Hyacinth Lotuaco. He is father to two boys, Julio Jose and Jose Emilio.

back to top