Report to the Joint Congressional Oversight Committee on the implementation of Republic Act No. 11494
Comments and Reactions of Senators on the Implementation of Republic Act 11494

REPUBLIC ACT NO. 11469
An Act declaring the existence of a National Emergency arising from the Coronavirus Disease 2019 (COVID-19) situation and a national policy in connection therewith; and authorizing the President of the Republic of the Philippines for a limited period and subject to restrictions, to exercise powers necessary and proper to carry out the declared national policy and for other purposes

Performance of the Senate
17th Congress 3rd Regular Session
July 23, 2018 - June 7, 2019 (519 KB)
Of Gratitude and Productiveness by Senate President Vicente C. Sotto III
My esteemed colleagues, the Senate of the 17th Congress is a tale of two Senate Presidents. I was preceded by the young bar topnotcher and politically—pedigreed Senate President Aquilino "Koko" Pimentel III whose term commenced in July 2016. It was historic and the first time that a father-and-son team served as Senate Presidents. I even served for his father. He was as good as his father.
---
ELLS - Implementation Bulletin - RA 11337: Innovative Startup Act
October 26, 2020 (363 KB)
This law creates the Philippine Startup Development Program, which will provide benefits and incentives for startups and startup enablers. These include grants and subsidies, venture capital, and expedited processing of applications, among others. (ELLS publications)
---

(SEPO - Economic Report) 2020 Midyear Economic Report - Transitioning to the New Normal
August 2020 (1 MB)
The Coronavirus Disease 2019 (COVID-19) pandemic has significantly changed the economic landscape. The world economy is now expected to experience one of the worst recessions in history, and Asian countries, such as the Philippines, are proving to be no exception. (SEPO publications)
---
(STSRO - Taxbits) NO HODGEPODGE PLEASE: The One Subject One Title Rule and the CREATE Bill
October - December 2020 (4.98 MB)
The 1987 Philippine Constitution has laid down certain limitations on the legislative department insofar as the crafting of bills or proposed measures are concerned. In terms of bills on taxation, some of the well-established applicable rules are the origination rule, the rule of uniformity and equitability, progressivity, and the one subject one title rule. (STSRO publications)




---

Legislative Library Service - Library Update
November - December 2020 (257 KB)
The Senate Library's BIBLIOGRAPHY SERVICE is a bimonthly compilation of books, and other information materials which aims to inform and update the Honorable Senators, their research staff, and the officials and technical staff of the Secretariat of recent additions to the library collections. (LLS publications)
---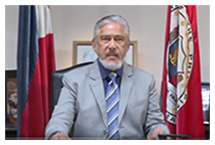 Senate President Sotto's video message to IPU
August 19, 2020
Senate President Vicente C. Sotto III urges greater cooperation among Parliaments all over the world to contain the devastating effects of the COVID-19 pandemic as the Inter-Parliamentary Union (IPU) convenes the Fifth World Conference of Speakers of Parliaments this August 19-20, 2020.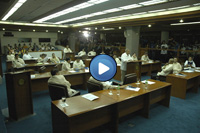 Committee Schedule
---
| | | |
| --- | --- | --- |
| SBN | = | Senate Bill No. |
| SRN | = | Proposed Senate Resolution No. |
| Journal No. | = | Journal Session No. |
| CR No. | = | Committee Report No. |
| RA No. | = | Republic Act No. |
| Res. No. | = | Adopted Senate Resolution No. |
| Ct. Res. No. | = | Concurrent Resolution No. |
| Jt. Res. No. | = | Joint Resolution No. |