Report to the Joint Congressional Oversight Committee on the implementation of Republic Act No. 11469
Comments and Reactions of Senators on the Implementation of Republic Act 11469

REPUBLIC ACT NO. 11469
An Act declaring the existence of a National Emergency arising from the Coronavirus Disease 2019 (COVID-19) situation and a national policy in connection therewith; and authorizing the President of the Republic of the Philippines for a limited period and subject to restrictions, to exercise powers necessary and proper to carry out the declared national policy and for other purposes

Performance of the Senate
17th Congress 3rd Regular Session
July 23, 2018 - June 7, 2019 (519 KB)
Of Gratitude and Productiveness by Senate President Vicente C. Sotto III
My esteemed colleagues, the Senate of the 17th Congress is a tale of two Senate Presidents. I was preceded by the young bar topnotcher and politically—pedigreed Senate President Aquilino "Koko" Pimentel III whose term commenced in July 2016. It was historic and the first time that a father-and-son team served as Senate Presidents. I even served for his father. He was as good as his father.
---
ELLS - Implementation Bulletin - RA 11454: An Act Authorizing the Sale of Certain Parcels of Land in Barangay Krus na Ligas, Quezon City by the University of the Philippines to the Quezon City Government
September 21, 2020 (259 KB)
This law amends the charter of the University of the Philippines (UP) to authorize the sale of certain parcels of land in Barangay Krus na Ligas with a total area of not more than 22.467 hectares. However, authorization is automatically revoked when both parties fail to agree on the terms and conditions of the sale within one year from the law's effectivity. (ELLS publications)
---

(SEPO - Economic Report) 2020 Midyear Economic Report - Transitioning to the New Normal
August 2020 (1 MB)
The Coronavirus Disease 2019 (COVID-19) pandemic has significantly changed the economic landscape. The world economy is now expected to experience one of the worst recessions in history, and Asian countries, such as the Philippines, are proving to be no exception. (SEPO publications)
---

(STSRO - Taxbits) Let's CREATE that our people may live
June - July 2020 (4.6 MB)
Much of the modern world have been caught off guard by the advent of Covid-19 and the speed by which it has wrought havoc on all imaginable facets of national and local life. In the Philippines, the past 122 days of varying types and intensities of community quarantines have left a hefty price tag on the economy, socio-cultural health, and even political temper. (STSRO publications)




---
Legislative Library Service - Library Update
July - August 2020 (213 KB)
The Senate Library's BIBLIOGRAPHY SERVICE is a bimonthly compilation of books, and other information materials which aims to inform and update the Honorable Senators, their research staff, and the officials and technical staff of the Secretariat of recent additions to the library collections. (LLS publications)
---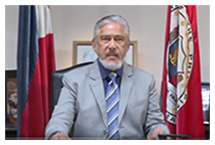 Senate President Sotto's video message to IPU
August 19, 2020
Senate President Vicente C. Sotto III urges greater cooperation among Parliaments all over the world to contain the devastating effects of the COVID-19 pandemic as the Inter-Parliamentary Union (IPU) convenes the Fifth World Conference of Speakers of Parliaments this August 19-20, 2020.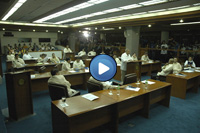 Committee Schedule
---
| | | |
| --- | --- | --- |
| SBN | = | Senate Bill No. |
| SRN | = | Proposed Senate Resolution No. |
| Journal No. | = | Journal Session No. |
| CR No. | = | Committee Report No. |
| RA No. | = | Republic Act No. |
| Res. No. | = | Adopted Senate Resolution No. |
| Ct. Res. No. | = | Concurrent Resolution No. |
| Jt. Res. No. | = | Joint Resolution No. |