Senator Francis "Kiko" N. Pangilinan
---
Biography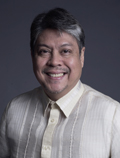 Serving the people, through the years
"I HOPE you will grow up in a country you can be proud of, in a society that is safe wherever you go" forms part of Kiko's letter to his newborn daughter Kakie when he first ran for the Senate in 2001.
It was a rough year, an apparent repeat of the EDSA People Power Revolt 15 years earlier. People went out to the streets to call for President Estrada's resignation over accusations of plunder and jueteng (illegal gambling) kickbacks worth hundreds of millions of pesos.
It was also a hopeful year, as Kiko ran for his first national seat. His battle cry was, "Kumilos Kasama si Kiko", a slogan that distills his conviction that genuine and lasting change can happen only when political leaders and citizens work together toward a common goal. This is a lesson he took away from the peaceful uprising that spelled the fall of Marcos the dictator.
Kiko was a "martial law baby". Typical of middle-class children of the 1970s, he was apolitical. It took the assassination of Upsilon fraternity brother and political firebrand Sen. Benigno "Ninoy" Aquino Jr. under the government of fellow brod Marcos to shake him off his apathy and veer him from his regular teenage pursuits of girls and music and sports. He began to question his unexamined assumptions about politics and society.
He immersed himself in the student movement via the University of the Philippines Student Council, as its chairman and the university's Student Regent. Together with fellow student activists, he soon found his classroom to include all of Philippine society, riding the twists and turns of history just before the 1986 Snap Elections and thereafter the rebuilding of Philippine democracy from the ruins of the Marcos dictatorship.
Nothing was easy, but the Cory Aquino administration opened the doors to new politics. So while studying to become a lawyer, in 1988 he ran and won to become the youngest elected city councilor of Quezon City. There, he came face-to-face with the temptations of power and rejected them, believing that governance with integrity was possible. He lost in the congressional race in 1992.
As the country was moving forward away from the many deadly coup attempts and natural disasters (1990 Luzon Earthquake and 1991 Pinatubo Eruption), he took this time to finish his law degree, which later gave him license to give legal advice on radio and TV. At the workplace, he met the Mega Star Sharon Cuneta, whom he married in 1996.
To better himself, he went to the Harvard University John F. Kennedy School of Government and in 1998 earned a Master's Degree in Public Administration as an Edward S. Mason Fellow.
In 2000, he became father to Kakie, and this was when he wrote her that letter describing both his political vision and personal motivation. The following year, he won as senator.
The first years of his first term at the Senate may be described as peace time, so he focused on what would sustain peace and progress: justice. He headed the Senate Committees on Ethics, Education, Housing, and Justice, and Blue Ribbon.
Believing that the Philippine judicial system must be able to defend the most vulnerable, he authored and pushed for the passage of the Juvenile Justice and Welfare Act which kept children in conflict with the law out of jails intended and designed for adults. Aside from him being blamed for the inadequate implementation of the law, he is also attacked for his defense of children neglected by family, trapped by poverty, and exploited by gangs. His detractors are shut up by his "Hulihin ang sindikatong ginagamit ang mga bata para gumawa ng krimen (Arrest the syndicates exploiting children to commit crimes)" answer.
And knowing that the system needs to be overhauled so that justice is not delayed, he ensured that salaries and benefits of judges and prosecutors be increased significantly so that competent lawyers would be able and willing to render first-rate public service. This halved the vacancies in the position for judges across the country from 32% to 16%, partially addressing the systemic problem of turtle-paced judicial process.
He was also among those who pushed for the abolition of the death penalty as well as the enactment of the Anti-Money Laundering Act, which tried to secure accountability among public officials.
During the later years of the Arroyo administration and in response to the spate of extrajudicial killings and forced disappearances, Kiko proposed the landmark Joint Judicial Executive Legislative Advisory and Consultative Council (JJELACC), composed of the President, the Senate President, the House Speaker, and the Chief Justice.
A peace- and justice-making tool, his brainchild became a forum for the three branches of government to strengthen consultation and coordination in upholding the rule of law. By 2008 and with the convening of JJELACC, the budget for the judiciary and the country's system of justice was increased by P3 billion. He made the same call during the Aquino II administration, and again in the first year of the Duterte administration.
Only three years after winning his first national elective post, Kiko became Senate majority leader in 2004; he was again chosen majority leader in 2007 after his historic re-election as senator. Why historic? Because as the political lines between administration (Arroyo) and opposition (Estrada) were becoming less and less clear, he chose to run for re-election on his own and refused to align himself with either the administration or the opposition. He became the first incumbent to run as an independent and win, even landing in the Top 5 when many branded his move as "political suicide".
In his second term, he shepherded into law the UP Charter, which provides institutional autonomy by protecting students, ensuring democratic access, and upholding academic freedom.
At the political front, he planned to run for vice president in the 2010 elections. But in 2009, he gave way when he saw the overwhelming public reaction to then fellow Senator Benigno "Noynoy" Aquino III during the funeral march for his mother, democracy icon Cory Aquino.
Kiko continues to support and affect programs and laws with and for the grassroots, always taking a holistic view of Philippine society's fundamental ills.
In the last couple of years of his second term, he discovered a new passion: farming. As Chairman of the Senate Committee on Agriculture and Food and the Senate Committee on Social Justice and Rural Development, he initiated the convening of AF2025 (Agriculture and Fisheries 2025), a summit that paved the way for increasing the agriculture budget by 52% in 2012.
His active partnership with agriculture and fisheries stakeholders also led to an innovative and empowering way to fix the age-old problems of the sector: Sagip Saka, an advocacy program that has raised the incomes of participant-farmers by modernizing agriculture processes from pre- to post-production. (This is now law, institutionalized after its enactment in May 2019.)
Speaking to farmers and fisher folk all over the country inspired him to start his own small farm, from which he drew this insight: the success of the country lies in the success of the poorest in Philippine society -- our farmers and fishers, our food producers.
For a year after the end of his second Senate term, he became a full-time farmer, developing a 1.7-hectare lot, growing Bahay Kubo (literally nipa hut, a Filipino folk song) vegetables, as well as regular cash crops of lettuce and herbs, all grown organically.
In May 2014, he was appointed Presidential Assistant for Food Security and Agricultural Modernization by President Aquino, taking charge of four agencies: National Food Authority (NFA), National Irrigation Administration, Fertilizer and Pesticide Authority (FPA), and Philippine Coconut Authority.
During his term as food czar, Kiko was able to stabilize the price of rice by institutionalizing greater transparency, accountability, and competition in the NFA's rice importation process; this cut down the average per metric ton price of rice imports by as much as $120 thus saving the government some P6 billion in a year.
By mobilizing various stakeholders, he was able to help curb the "cocolisap" infestation that affected about 2.7 million coconut trees. A May 2015 report from Food and Agriculture Organization (FAO) described as "praiseworthy" the government's quarantine measures and "commendable" its participatory approach that rallied local governments, the scientific community, farmers, and other partners to solve the problem together.
He also caused the NEDA approval of P30 billion worth of big-ticket irrigation projects, and the doubling of the budget and staff complement of the FPA to meet the increasing regulatory demands of the industry. He helped move forward the coco levy bill.
In May 2016, Kiko ran again and won a fresh Senate term following his resignation from the Cabinet in October 2015.
From 2016 to 2019, in the 17th Congress, Kiko filed at least 24 measures ranging from those that give flesh to constitutional provisions (like the Anti-Political Dynasty Act), to those that seek to prevent police brutality as the war on drug claims tens of thousands of lives (like the Body Camera Act and Mandatory Autopsy Law), to pet programs with strategic food security goals (Zero Food Waste Act and Expanded Crop Insurance Act).
Of the 24, four have become laws: 105-Day Expanded Maternity Leave Law, Free Higher Education for All Act, the aforementioned Sagip Saka Act, and Free Internet Access in Public Places. The Coco Levy Fund Bill, which seeks to correct almost four decades of injustice to the poorest farmers in the country, and of which Kiko was principal author and sponsor, has been filed again.
As chairperson of the Senate Committee on Constitutional Amendments and Revision of Codes in the 17th Congress, Kiko conducted nationwide public hearings on the bills that seek to change the country's charter.
In October 2016, he accepted the presidency of the Liberal Party of the Philippines even if it was much decimated after politico-members left it for the ruling PDP-Laban. His call and challenge is to transform the party from politicians' to people's. He is redefining and rebuilding the party from the ground up.
Through the years, his programs and legislative measures have sought to harness people power, planting seeds of knowledge, time, and connections so that the change people experience in their everyday lives may take root and grow. He recognizes the difficulty as well as the opportunity of these dark uncertain times.
In these times, when it is easier to yield to apathy and cynicism and resignation, Kiko once again puts his trust on ordinary Filipinos to help him fulfill his promise to his daughter, that all of us can build a bright future for all our children in a country that is truly of, by, and for the people.

back to top