Senator Ralph G. Recto
Senate Office: Rm. 508 & 19 (New Wing 5/F) GSIS Bldg., Financial Center, Diokno Blvd., Pasay City
Trunk Lines: (632) 552-6601 to 70 local nos. 8543 / 8544/ 8546 / 8547
Direct Lines: (632) 88040749 / (632) 86595756
Email Address :

[email protected]


Website: www.recto.ph

---
Biography | Resume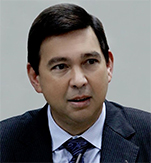 Senator Ralph Gonzalez Recto is known for his competence, compassion and hard work. These core values form the foundation that built his reputation as an independent and dedicated legislator. He approaches legislation with a passion to make a better life for the Filipino people.
His impartial judgement is reflected in his openness and willingness to listen to contrary position. Critical thinking governs his objective analysis of information to address problems and issues. He recognizes the merit of new concepts and innovations but these should be practical and doable.
He can never be boxed into a myopic position to the disdain of his critics. He is not one to shun the rough waters of public opinion when he tackles unpopular measures. He faces resistance head on, but in ways that disarm the adversary. Whoever initially opposes his ideas is soon converted into an ally because his argument is always evidence-based rather than presented in sophisticated but empty rhetorics.
In the 18th Congress, he is elected as Senate President Pro Tempore and is an ex-officio member of all Standing Committees.
In the 17th Congress, he was also elected Senate President Pro Tempore. Prior to this was a brief stint as Minority Leader.
In the 16th Congress, he was also Senate President Pro Tempore while in the 12th, 13th and 15th Congresses, Recto was Chairperson of the Committee on Ways and Means and member of the Commission on Appointments.
In the 18th Congress he has co-authored laws including the Bayanihan I and II, the extension of the GAA 2020 and the Bayanihan II, and the Medical Scholarship Act.
For the 17th Congress, he authored/co-authored the following laws: Universal Access to Quality Tertiary Education, Universal Healthcare, Mandatory PhilHealth Coverage for Persons with Disability, Comprehensive National Feeding Program, Free Irrigation Service, Ease of Doing Business, Free Internet Access in Public Places, Extending the Validity of Philippine Passport and Driver's License, National ID System, First 1,000 Days of Life, Amendments to the SSS Charter, the New Central Bank Act, and Designating Casinos as Covered Persons under the AMLA.
His other legislative accomplishments before the 17th Congress include authorship of laws on Kindergarten, K to 12, mandatory PHILHEALTH coverage for senior citizens, additional benefits for Persons with Disabilities, Centenarians Act, increasing the tax-exempt ceiling on 13th month pay and other benefits, PAGASA modernization, extension of the Agricultural Competitiveness Enhancement Fund, AFP modernization, creation of the Department of Information and Communications Technology, Customs Modernization and Tariff Act and extending the corporate life of the Philippine National Railways
He has come out in defense of Juan de la Cruz in consumer issues like universal health care, social security, oil price, electric power, transportation fare and services, telecommunication services, license plates, and rice supply and pricing. He also initiated increased budget support for State Universities and Colleges (SUCs), free college tuition, hiring of rural doctors and nurses, upgrading of regional hospitals, Centenarian and senior citizen benefits, DSWD feeding program, OFW Repatriation, PNP Modernization, DOLE livelihood and emergency employment programs, among others.
In the midst of the COVID-19 pandemic, he filed bills that were consolidated in Bayanihan I and II. The Senator initiated budget priorities that were necessary not only to stem the spread of the virus but also to speed up the economic recovery. These support for health programs included funding for testing, isolation and quarantine, contact tracing, treatment, and eventually for the purchase and logistics of COVID-19 vaccines. Budget allocation was also provided for social amelioration programs to alleviate the plight of those who were without income in view of the lockdowns.
Senator Recto has also supported initiatives intended to soften the impact of an economic downturn. These include the funding of wholesale banking and equity infusion for government banks and financial institutions in order to finance industries affected by the COVID-19 pandemic. These benefited MSMEs, cooperatives, hospitals, tourism and OFWs, among others. Business was also assisted through a combination of increasing available loanable funds, reducing documentary requirements, increasing maximum loan amounts per borrower, reducing interest rates, extending loan terms, utilization of financial technologies, and financing operating expenses to ensure that they continue operating their businesses.
Bayanihan III, otherwise known as to Bayanihan to Rebuild as One, was also filed by the Senator in December of 2020. This was meant as a continuing response to COVID-19 that will soften the impact of an economic downturn, accelerate the economic recovery of the country and also to respond to the needs of areas battered by the typhoons.
Senator Recto has made a mark in his zealous involvement in the crafting of meaningful legislations, as well as in the exercise of Congressional oversight particularly on matters that affect the common tao.
A deep sense of equity and fairness define his balanced handling and scrutiny of legislative measures and issues. In all cases, he assigns great value on the people's needs. With inclusive growth, it is expected that the poor will share the responsibility and fruits of development.
Updated as of 01142020

back to top