Senator Joker P. Arroyo
Senate Office:
Rm 511 5th Flr., GSIS Bldg., Financial Center, Roxas Blvd., Pasay City
Trunk Lines: (632) 552-6601 to 70 loc. 5567-68
Direct Lines: (632) 552-6730 / (632) 812-1323
Fax No.: (632) 552-6790
Email:

[email protected]
---
Biography | Resume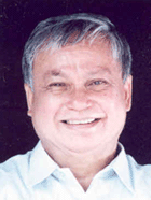 Seldom do we have a Filipino leader who has so much ardor and commitment both as a human rights lawyer and freedom fighter. Senator Joker P. Arroyo has a long history of these traits by handling more human rights cases than any other lawyer from 1972-1986. A graduate of the UP College of Law and the Ateneo de Manila, his meteoric rise to national consciousness started when he challenged before the Supreme Court of the Philippines the constitutionality of Proclamation No. 1081 imposing martial law.
Thereafter, he joined other lawyers in questioning before the Supreme Court: 1) the ratification of the Marcos dictated 1973 Constitution; 2) Amendment 6 that empowered President Marcos to exercise law making powers alongside the Batasang Pambansa; 3) the power of military tribunals to try civilians. Senator Arroyo's brilliant skills as a trial lawyer was demonstrated when he helped defend political detainees such as Ninoy Aquino, Eugenio Lopez, Jr., Serge Osmeña III, Jose Ma. Sison, Jovito Salonga, Nene Pimentel, Eva Kalaw, Renato Tañada, Eduardo Olaguer and many others.
As a freedom fighter, Senator Arroyo has had his share of physical and mental tortures having been incarcerated in a military stockade, gassed, injured and hospitalized during protest rallies. During the snap elections in 1986, he served as counsel of Mrs. Corazon Aquino. He, likewise, co-founded MABINI and FLAG together with other human rights lawyers. He is also a member of the American Bar Association, Senior Lawyers Division.
After EDSA I, he held various post in the government service first as Executive Secretary in the Aquino cabinet from 1986 to 1992, then as Chairman of the Philippine National Bank and as Executive Director for the Philippines in the Asian Development Bank from 1986 to1990.
Senator Arroyo has received various awards and commendations for his significant contributions to the law profession and public service. Among these are the Philippine Bar Association's Most Distinguished Award for Justice as a "man beholden to no one except to his country" and a Senate Resolution No. 100 enacted in the 8th Congress commending him for his invaluable services to the Filipino people.
As a three-term congressman for the 1st District of Makati from 1992 to 1998, obtaining 80% of the votes cast in the elections, Senator Arroyo also distinguished himself by being consistently voted by media as Outstanding Congressman of the Year. While in Congress, he remained an independent throughout his term, he never traveled abroad on government money and was known to have a perfect attendance record for nine years from the time he was elected up to the end of his term. His Statement of Assets and Liabilities has remained the same from the time he entered public service in 1986 up to the present. As Lead Prosecutor during the impeachment trial of President Joseph Estrada, he was remarkable.
During the 2001 elections, Senator Arroyo was elected senator. In this 13th Congress, he chairs the Committee on Accountability of Public Officers and Investigations (Blue Ribbon), Committee on Public Services and the Committee on Justice and Human Rights.

back to top