Jose D. Avelino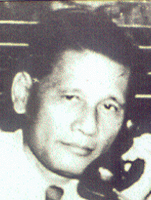 Jose D. Avelino was born in Calbayog, Samar on August 5, 1890. His parents were Alfonsa Dera and Baltazar Avelino.Avelino pursued a Bachelor of Arts degree at the Ateneo de Manila and then went to the University of the Philippines where he graduated with a degree in Bachelor of Laws. In 1934, he was admitted to the Philippine bar and was conferred with a degree of Master of Laws by the University of Santo Tomas.
Avelino was a municipal councilor in his hometown of Calbayog from 1917 to 1919. After two years, he was elected representative of the first district of Samar in the house of Representatives. He served in that capacity until 1928.
In the same year, Avelino won a seat in the Senate where he represented the ninth senatorial district from 1928 to 1934. He won a second term and during the tenth Philippine Legislature, he served as Majority Floor Leader. With his sharp argumentative prowess, he won the respect of his colleagues for which they elected him President Pro-Tempore and later as Senate President. Through the turbulent post-war years when the administration was subjected to upheaval, Avelino strove to lead the Senate through the straits of reconstruction with vigilance and a strong political will.
Avelino retired from public life and devoted himself to the practice of law until his death.