Mariano Jesus L. Cuenco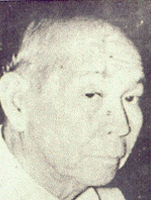 Senator Mariano Jesus L. Cuenco was born in Carmen, Cebu on January 16, 1888 to Mariano A. Cuenco and Remedios Lopez. He studied at the Colegio de San Carlos of Cebu where he graduated in 1904 with a degree in Bachelor of Arts. He finished law in 1911 at the Escuela de Derecho ( later became the Manila Law School ) and passed the bar examinations in 1913.

He entered politics in 1912 when he was elected to the Philippine Assembly representing the fifth district of Cebu. He was re-elected from 1916 to 1928. He ran for the governorship of Cebu in 1931 and became the President of the League of Provincial Governors of the Philippines. In 1934, he was elected delegate to the Constitutional Convention where he was chosen floor leader.Cuenco was Secretary of Public Works and Communications from 1936 to 1939. He was also appointed Acting Secretary of the agriculture, commerce and labor departments while serving as Secretary of Public Works and Communications in 1938.

In 1941, Cuenco was elected Senator and reelected in 1946. From 1949 to 1951, he served as Senate President and Chairman of the Commission on Appointments. His term paved the way for many reforms and his significant contributions resulted in a more efficient legislative body. He continued serving the Senate from 1953 to 1965.`

Cuenco was also known as a prolific writer. He was the editor of the Spanish – language newspaper El Precursor of Cebu for many years. In 1926, he became a member of the Academia Filipina Correspondiente de la Real Española de la Lengua. He was honored by the Spanish government with the decoration Gran Cruz de Isabela la Catolica and by the Holy See with the decoration " Pro Ecclesia et Pontifice. "

Cuenco also wrote in Visayan. Ang Republikang Pilipinhon, Codigo and Roma are among his works.