Arturo M. Tolentino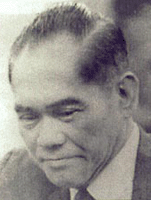 Arturo M. Tolentino was born in Manila of humble parentage. A self-made man, he is one of the best leaders in the legislative arm of the government. His record in public service speaks for itself.
As a student, Tolentino was noted for his excellent scholarship. He was valedictorian of the Mapua High School (1928); valedictorian (cum laude) University of the Philippines College of Law (1934); a bar topnotcher (1934). He obtained the degree of Bachelor of Philosophy (cum laude) with a gold medal award from the UP in 1938., and received the degrees of Master of Law (meritissimus) and Doctor of Civil Law (meritissimus) from the University of Santo Tomas.
As a debater and orator, he won seven gold medals (including the Quezon Medal) and two silver loving cups. He held the title of "Inter-Collegiate Oratorical Champion of the Philippines" in 1934. He successfully debated with American students from the University of Oregon in 1933 and from the University of Washington in 1934.
Tolentino has engaged in the practice of law since he passed the bar in 1934, and is a recognized legal luminary.
He has been a law professor in the UP, UST, UE, UM, Arellano University, FEU, Manila Law College, Philippine Law School, San Beda College and the Quezon College.
Tolentino was Congressman from 1949 to 1957 and was Senator from 1957 to 1972. He held the Senate Presidency from 1966 to 1967. Never forgotten as a prominent statesman, he was reelected Senator in 1992 and served the term until 1995.
Tolentino's meritorious background and exceptional intellectual abilities secured the government's responsibility to the rules of law in good hands. Respected not only for his extemporaneous amendments to major measures and enlightened brand of politics, Tolentino is also known among other thing as a scholar, writer, diplomat, and distinguished author of law books. A recipient of numerous awards, Tolentino is not only brilliant, but is also a man of integrity and high principles.