Manuel A. Roxas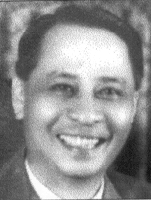 Manuel A. Roxas, the third of the Quezon Osmeña triumvirate credited with the struggle for Philippine independence from the American regime, was born on January 1, 1892 in Capiz, Capiz, now Roxas City. His parents were Gerardo Roxas and Rosario Acuña.Roxas took up a law course at the University of the Philippines where he graduated in 1913 and topped the bar examinations.He became a provincial governor in the days of the Commonwealth, and was later elected to sit at the House of Representatives. On his first term, he was chosen Speaker of the body.
As member of the various independence missions, Roxas contributed greatly to the laying of the foundations of the Philippine independence, as well as to its attainment.When the Pacific War broke out, he displayed more of his multi-faceted characters when he volunteered for military service in defense of the country.During the Japanese Occupation he refused to cooperate with the Japanese military forces by faking illness and evading major services. Still, he served in various other tasks in the interest of the Filipinos.
When Congress convened for its post-war session, Roxas was elected Senate President. During his term, he displayed profound statesmanship and intelligence, making his mark as a master of economics. He was among the " seven wise men " who drew up the Constitutional Convention and accordingly became the last of the Commonwealth presidents and the first for the Republic of the Philippines. An undisputed pillar of Philippine democracy, his selfless dedication to his country's political and economic development is a timeless virtue worthy of emulation even by succeeding generations.
Roxas died in Clark Field on March 15, 1948. His widow was the former Trinidad de Leon whom he left with two children.