Jovito R. Salonga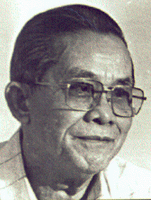 Reputed as " The Nation's Fiscalizer ", Jovito Salonga's distinguished record as Congressman for the 2nd District of Rizal later won for him the overwhelming mandate of the Filipino electorate as he consistently topped three Senatorial elections despite lack of material means and at against all odds – a record without precedent in Philippine political history, in addition to the remarkable fact that he was elected under three different administrations ( that of Macapagal, Marcos and Aquino ). Salonga was chosen as one of the most outstanding Senators with his significant legislations, some of which inspired public interest: the State Scholarship Law, the Disclosure of Interest Act, the Magna Carta for Public School Teachers, and the Code of Conduct and Ethical Standards for Public Officials and Employees, and the Act Defining and Penalizing the Crime of Plunder.
Salonga has been fighting corruption and dictatorship since his youth. The son of a Presbyterian minister from Rizal province, he joined the resistance movement during the Japanese occupation, was captured, tortured and sentenced by a military court to years of hard labor.
Released in 1943, he topped the bar examinations the following year and made plans to attend Harvard for his master's degree. He followed up his master's at Harvard with a doctorate from Yale University, but turned down a faculty position there because he felt he should take part in post-war reconstruction in the Philippines.
Upon his return, he embarked on a career that quickly established him as one of the most brilliant lawyers in the country. He taught law at leading universities in Manila, and authored several tax texts that are used here and abroad.
When Martial Law was declared in 1972, he was one of its most outspoken opponents. He defended political prisoners who challenged the Marcos regime.
In October 1980, after the bombing of the Asian Society of Travel Agents' conference at the PICC, Salonga was arrested along with several others and was detained without investigation and without charges.
After his release from military custody, he was offered a visiting scholarship at Yale, where he engaged in the revision of his book on International Law. He completed his book on the Marcos years and a program for a new democratic Philippines.
Salonga returned to the Philippines on January 21, 1985 and when the Aquino government took over after the People Power Revolution of February 1986, Salonga was named chairman of the Presidential Commission on Good Government, which was tasked with investigating and recovering the ill-gotten wealth of the members of the past regime.
With his selfless dedication to duty and his significant contributions to the country, Jovito Salonga continues to serve as brilliant inspiration to all Filipinos. He was Senate President from 1987-1991.