Quintin B. Paredes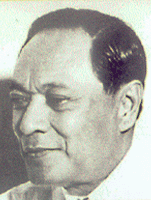 Lawyer, legislator, and statesman, Quintin B. Paredes was born to Juan Felix Paredes and Regine Babila in Bangued, Abra on September 9, 1884. He obtained his elementary education at the school his father had established. He also studied at the Colegio Seminario de Vigan and at the Colegio de San Juan de Letran. He pursued law at the Escuela de Leyes. He had degrees in Bachelor of Arts, Bachelor of Laws and Master of Arts. He took and passed the bar examinations in 1906.For the next two years, he practiced law privately, until he was designated Deputy Fiscal of the City of Manila in 1908, and he was promoted to the position of First Assistant City Fiscal in 1930. He also taught Criminal Law at the Escuela de Derecho from 1909 to 1911, and served as its Director from 1911 to 1917.
In 1916, after eight years of exemplary service in government, he became Manila City Fiscal. When the municipal government was reorganized the following year, he was asked to join the Bureau of Justice. In 1918, he was named Attorney General. Two years later, in 1920, he was designated Secretary of Justice, and served in this distinguished office until 1921, when he returned to private practice.
Paredes joined the parliamentary mission to the United States in 1919. While there, he practiced his profession in the U.S. Supreme Court.
He was elected Representative of Abra and reelected in 1929, during which he served as Acting Speaker of the House of Representatives. For his outstanding performance, he was chosen to represent Abra until 1934. From 1933 to 1934, he served as Speaker Pro-Tempore. He was elected to the National Assembly of the Commonwealth Government in September 1935, but resigned in the same year to serve as the Filipino Resident Commissioner to Washington, D.C. On November 8, 1938, after his return to the Philippines, he was reelected Assemblyman and became the Majority Floor Leader.
During the war, he served on the Laurel Cabinet as Minister of Public Works and Communications. In the transition period after the war, Paredes was accused of collaboration and treason, along with President Laurel and the rest of Japanese – backed Cabinet on January 28, 1948. Two years after the trial began in 1946, Manuel Roxas, first elected President of the two – year Philippine Republic, granted them amnesty.
Paredes joined the senatorial race in 1949 and won. He duplicated his feat years later in the 1955 elections. At the Senate, he was voted, initially, President Pro-Tempore, and later as Senate President. His industriousness and perseverance made him a most efficient and dedicated public official, thereby instituting a more effective Senate during his term. He retired from public service at the age of 79 in 1963 and served as President and Vice–Chairman of the General Bank and Trust Company. He died on January 30, 1973.