Eulogio A. Rodriguez, Sr.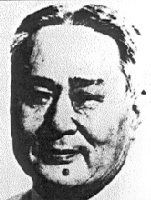 Eulogio "Amang" Rodriguez was born in Montalban, Rizal on January 21, 1883. He was the eldest son of Petronilo Rodriguez and Monica Adona. He had seven children by his first wife, Juana Santiago, namely Eulogio, Jr., Jose, Ruperto, Leonor, Isidro, Constancio and Adelaida. With his second wife, Luisita Canoy, he had three children, namely, Baby, Linda and Rafael.
"Amang" as he was popularly called, first studied at the Spanish-run public school in Montalban, Rizal, then took his secondary course at the San Juan de Letran in Manila, where he completed his Bachelor of Arts in 1896.
Eulogio "Amang" Rodriguez was Municipal President of Montalban, Rizal from 1906-1916; became Governor of Rizal in June 1916; and was reelected in June 1922. He was appointed Mayor of Manila by Governor General Leonard Wood on July 23, 1923, and later served as Representative of Nueva Vizcaya District from February 1924 to May 1925. He became the Representative of the Second District of Rizal in 1925 and was reelected in 1931 and 1934. He was also appointed Secretary of Agriculture and Commerce by Governor Frank Murphy on July 26, 1934, re-appointed by President Manuel Quezon on January 15, 1940, and served as such until August 28, 1941. After his resignation as Mayor of Manila, he campaigned for a seat in the Senate and was elected senator in 1941. On May 20, 1953, he was elected Senate President, a position he occupied for the next ten years.
"Amang" started his career in politics as a Democrata or a member of the opposition party, and not until there was a general realignment of parties due to the divisive struggle over the approval of the Independence Law in 1933, did he switch to the majority or the Nacionalista Party, to which he remained faithful until the day of his death three decades later. He nursed the party during its darkest hours, and steered it successfully through the political reefs and typhoons that rocked the local scene, thus earning for him the sobriquet "Mr. Nacionalista". Unlike so many others, he did not switch parties for personal convenience.
As a legislator, he always supported measures improving the lot of common man, for he knew that the upgrading of the masses was the best way of retaining democracy in the country. Many were sometimes politically at odds with him, but they always found him to be a reasonable opponent who played clean in a game known for its mendacity and unpricipled moves. A man of integrity, who played fair even with his opponents, and who could be generous in victory, Eulogio "Amang" Rodriguez was a man, a politician and a public official of sterling attributes.