Neptali A. Gonzales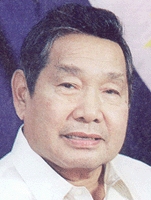 Neptali Alvaro Gonzales, despite his humble beginnings, worked himself through college graduating class valedictorian in the Philippine Law School. He placed 9th in the 1949 bar examinations with the grade of 92.50%.
He extensively practiced law and for 31 years, was a professor and reviewer in many leading law schools. He wrote five (5) law books widely used by law students and practitioners. He was Dean of the Institute of Law of Far Eastern University from 1976 to 1986.
Venturing into public office, he was elected Vice-Govenor of the Premier Province of Rizal (1967-1969), Congressman of the First District of Rizal (1970-1973) then the biggest Congressional District of the Philippines with three Cities (Quezon City, Caloocan City an Pasay City) and ten Municipalities (Malabon, Navotas, Mandaluyong, San Juan, Makati, Taguig, Pateros, Paranaque, Las Pinas and Muntinlupa); Assemblyman for the District of Mandaluyong-San Juan (1984-1986) and Senator for two consecutive terms (1987-1998). Before his election as Senator, he was appointed Minister, later Secretary of Justice (1986-1987) by then President corazon C. Aquino.
Many times chosen as an "Outstanding Senator," he served as President of the Senate for an unprecedented third time. He was Senate President, first, from January 1, 1992 to January 18, 1993; then from August 29, 1995 to October 10, 1996 and was again elected for the third time on January 26, 1998. He also served as the Minority Leader of the Senate's Progressive Coalition from October 10, 1996 to January 26, 1998.
Senator Gonzales was the permanent delegate of the Congress of the Philippines to the century-old Inter-Parliamentary Union (IPU) and the ASEAN Inter-Parliamentary Organization (AIPO). He is also a delegate to the International Labor Organization (ILO).
Married to Candida Medina for more than fifty years and father to four children, his family remains a major pillar of his happy and simple life. In recognition of his strong adherence to family values, he was presented with the "1994 ASEAN Father for Public Service Award" and the "1996 Ama ng Bayan Award" by the Golden Mother & Father Foundation and the "1996 Special Ideal Parents Award" from the Ideal Community Foundation of the Philippines and the Golden Mother & Father Foundation, and the "1996 Golden Parents Special Award" from the Golden Mother & Father Foundation.
For his outstanding achievements and contributions in the fields of law, education, and public service, he was conferred the degrees of Doctor of Laws, honoris causa, both by the University of Bohol and the University of Misamis (1987); Doctor of Public Administration, honoris causa, by the Polytechnic University of the Philippines (1991); and Doctor of Technology Education, honoris causa, by the Rizal Technological Colleges (1995). He was also a recipient of the "Dr. M.V. Delos Santos Memorial Medallion of Honor" by the University of Manila in 1996.
Truly an outstanding legislator, Senator Neptali A. Gonzales earned the distinction of having sponsored the General Appropriations Bill from 1988-1992, 1994 and 1998, considered as the most important pieces of legislation.
As a Senator of the Republic, some of the numerous laws he principally authored/sponsored include Republic Act (R.A.) No. 6735, a law providing for a system of initiative and referendum; R.A. 6826, a law authorizing the President of the Philippines to exercise powers necessary and proper during a national emergency; R.A. 6981, a law providing for a "Witness Protection, Security and Benefits Program;" R.A. 7056, a law providing for synchronized and simultaneous national and local elections beginning 1995; R.A. 7309, a law providing for a victim compensation program to indemnify victims of violent crimes through a Board of Claims; R.A. 7323, a law institutionalizing the "Special Program for Employment of Students" (SPES) during summer and Christmas vacations; R.A. 7655, a law increasing the minimum wage of househelpers; R.A. 7876, an act establishing a senior citizens center in all cities and municipalities of the Philippines; R.A. 7904, a law requiring Comelec to furnish every registered voter with an official sample ballot, voter's information sheet and list of candidates; R.A. 8191, a law prescribing measures for the prevention and control of diabetes mellitus and providing for the creation of a National Commission on Diabetes; R.A. 8247, a law extending up to June 31, 1997 the deadline for the filing of applications for legal residence of illegal aliens; R.A. 8249, a law expanding the jurisdiction of the Sandiganbayan; and R.A. 8291, the Revised GSIS Act of 1997.
He also co-authored several laws which are of vital importance to the country's economic, social and political well-being.
Indeed, Senate President Neptali A. Gonzales was, in the words of his Senate colleague, Sen. Blas F. Ople, "the compleat statesman" whose "intellect can soar to the heavens but is informed with a deep compassion for the underprivileged from whose ranks he himself came from."
His death on September 16, 2001, at the age of 78, was deeply mourned all over the country.
As public official he +has devoted his life to the study of the law and the creation of laws needed by Philippine society.
He has carved a distinguished career in law as professor, and dean of the Institute of Law at the Far Eastern University and bar reviewer in different schools.
He authored books on constitutional Law, Political Law, Administrative Law and Public Corporations.
A noted statesman, government functionary, constitutionalist and freedom fighter, Gonzales served and continues to serve his country with unfaltering commitment and deep concern for his fellowmen.
Neptali and his wife, the former Candida Medina, has been blessed with four children : Myrna, Aida, Rhodora and Neptali II.